Product advantages of foam abrasives
There are wide-ranging reasons for using foam as an abrasive as this material offers many advantages.
Due to their conformability, foam abrasives are the ideal choice for areas that are difficult to access and profiled surfaces. Hard-to-reach areas, such as door handle depressions, bumpers and radiator grilles, are ideal fields of application for the siasponge. Unlike conventional sandpaper, foam abrasives can be folded without creating permanent creases, which allows a consistent sanding pattern due to improved grain consistency without swirl marks.
Your advantage
Moulds itself to the workpiece, also when sanding hard-to-reach areas
No damage to the surface due to folds, kinks or ridges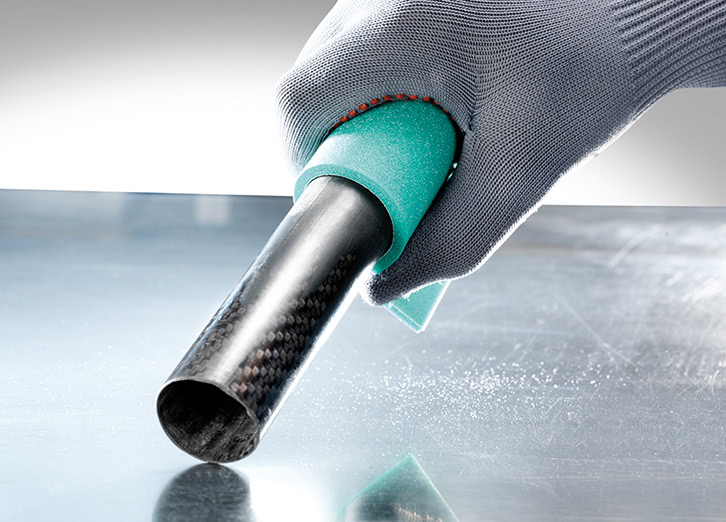 Optimised pressure equalisation
When sanding with foam abrasives, the focus is not on removing as much material as possible, but rather on optimising the surfaces. It is vital to achieve an absolutely smooth and even result when preparing surfaces for subsequent painting or varnishing. If the goal is to achieve a perfect workpiece surface finish with low scratch depth, applying pressure in two dimensions when sanding (such as using conventional sandpaper) is not enough. Instead, pressure needs to be applied in three dimensions. Force can be applied in three dimensions by using foam as the backing material in connection with a flexible binder resin. This allows the grit to dissipate the contact pressure along a Z-axis. The result: the abrasive grit does not cut into the material as deeply and breaks off less. As such, less material is removed and no sanding through of the material occurs at the edges. Instead, we achieve a homogeneous surface.
Your advantage
Perfect surface finishes thanks to pressure-distributing foam
No undercutting in intermediate sanding due to excess application of pressure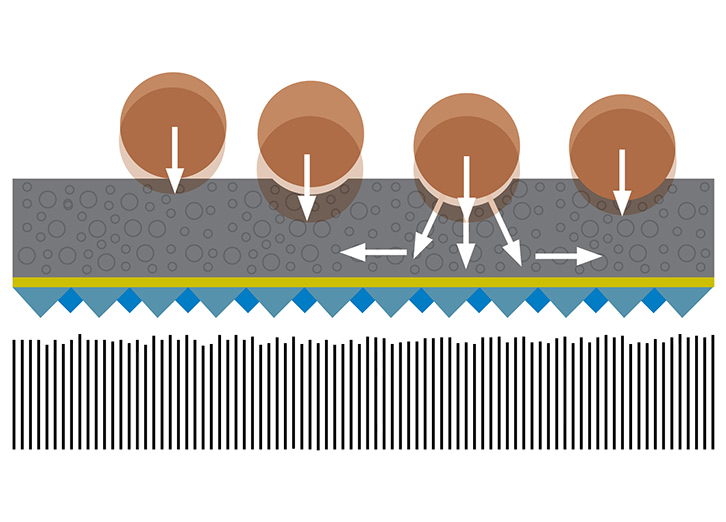 Low clogging thanks to 3D effect
A combination of soft backing material and flexible grit bonding reduces clogging of the foam abrasives. Sanding dust is continuously removed from the spaces between the granules. Using more flexible binder resin and optimised distribution with improved 3D embedding of the abrasive grit, it has been possible to further improve the clogging characteristics. The abrasives can therefore be used multiple times.
Your advantage
Longer service life thanks to less clogging
Can be used multiple times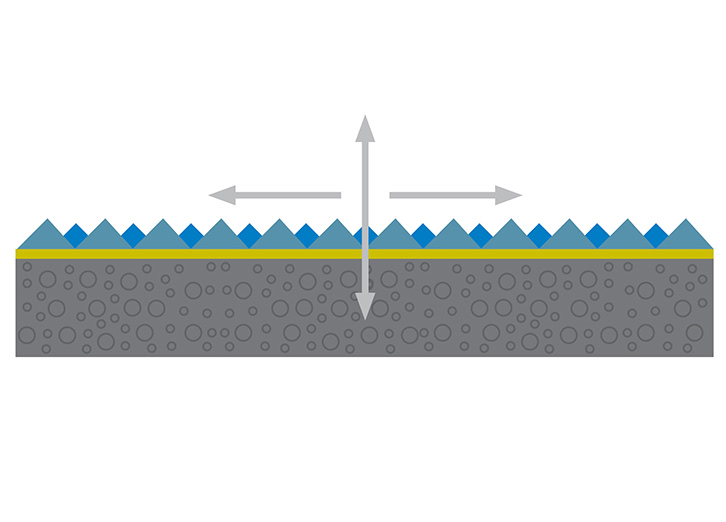 Sustainable and user-oriented
With a view to sustainable production processes, solvent-free binder resins are used in the manufacture of siasponge abrasive sponges. sia Abrasives is therefore committed to avoiding health and environmental risks, reducing unpleasant odours at the workplace and reducing potentially hazardous or explosive vapours.